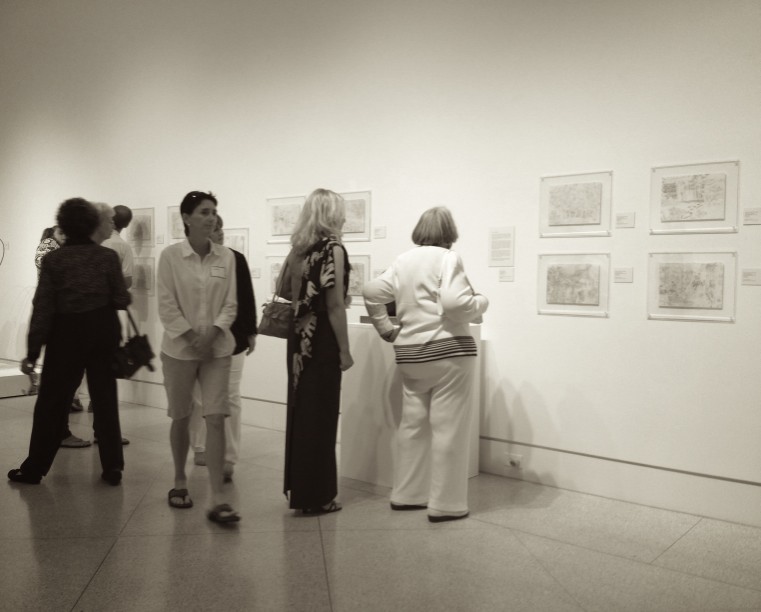 PREVIOUS EXHIBITIONS




RESONANCE & MEMORY: THE ESSENCE OF LANDSCAPE

FORT SMITH REGIONAL MUSEUM

December 16, 2105 - March 6, 2016

-

MICHELSON ART MUSEUM

March 22, may 6, 2016



---
R E E N C U E N T R O

REBECA CALDERÓN PITTMAN - MÓNICA SERRA - MÓNICA TORREBIARTE



Galería El Túnel

16 calle 1-01, Plaza Obelisco - Guatemala



Reception: 6:30 p.m. Thursday, September 16, 2015

September 16 - October 16, 2015
REBECA CALDERÓN PITTMAN
The Anderson Center for the Arts
June 2015
RESONANCE AND MEMORUY: THE ESSENCE OF LANDSCAPE
ELGA WIMMER PCC
526 W. 26TH STREET, NEW YORK CITY
DECEMBER 2015 - JANJUARY 2015
AMALGAM
FOUNDATIONS SERIES
THE BIRKE ART GALLERY
MARSHALL UNIVERSITY
JANUARY 20, 2015
IMAGERY AND SYMBOLS IN LATIN AMERICA
SOREYDA BENEDIT & REBECA CALDERÓN PITTMAN
LASC ART GALLERY - LEXINGTON, KY
OCTOBER - NOVEMBER 2014
INAUGURAL EXHIBITION AT THE MARTIN-LETT GALLERY OF ART
MARTIN WEINSTEIN & REBECA CALDERON PITTMAN
OXFORD, ALABAMA
AUGUST 2014
A FRAGMENTED ABSTRACTION
PAINTING MFA THESIS EXHIBITION
FAHM HALL GALLERY, SAVANNAH, GA
MAY 16, 2014
ACRYLIC & INK - REBECA CALDERÓN PITTMAN
WESTHEIMER GALLERY
CINCINNATI
FEBRUARY 2014

Illusion and Memory: Drawings of Rebeca Calderón Pittman
Cultural Arts Gallery II * IUPUI
November 7 - December 12, 2013

For more information go to:
www.iupui.edu
IUPUI - Indianapolis, Indiana

Martin Weinstein & Rebeca Pittman
Joyce Goldstein Gallery

Opening Reception: Saturday, November 2, 2013 * November 2 - November 30, 2013

Gallery hours: Thursday, Friday and Saturday, 12 p.m. to 9 p.m. 16 Main Street • Chatham, NY 12037
For more information go to:
www.joycegoldsteingallery.com
Exhibition organized through Katharine T. Carter & Associates

Illusion and Immersion: Drawings by Rebeca Calderón Pittman
Fine Arts Center - Northern Kentucky University

Artist reception: Thursday, September 5, 2013 * August 19 - September 20, 2013

Gallery hours: Monday through Friday, 9 a.m. to 9 p.m. Closed major holidays
Fine Arts Center • Third Floor Gallery - Northern Kentucky University - Nunn Drive, Highland Heights, Kentucky 41099
Parking available in the Welcome Center garage Campus map available here:
www.nku.edu/campusmaps.html
Exhibition organized through Katharine T. Carter & Associates


Rebeca Calderon Pittman's Recombinant Drawings
By Karen S. Chambers

Calderon Pittman's drawings are charming, whimsical, and witty. They are dreamlike in the way bits and pieces of reality exist in that state, and, like a dream, do not tell a coherent story. Because of her technique of layering a drawing on acetate with one on vellum, her images float in space.

Several words come to mind thinking about Calderon Pittman's layering of drawings: complementary and synergistic. By combining drawings and manipulating them, sometimes erasing areas, they are complementary on a formal level. I think Calderón Pittman's inclusion of line drawings of her paintings in her studio scenes reinforces that. The layers are synergistic because there is an interaction between them. But there is also the relationship between the viewer and the drawing. The drawings require the viewer's active participation to comprehend them.

Because of their size, the drawings need close inspection, and the viewer is rewarded with the delightful play between the two separate drawings. This is heightened in the framed works I saw with the acetate and vellum layers sandwiching a sheet of glass. When lit the lines of the top layer, which is acetate, can cast a shadow on the vellum, so now there are three layers to delight the eye and challenge the brain.

Calderón Pittman's drawings are absolutely the right scale. They are intimate in both size and subject matter. The interiors are homely, and the exterior scenes all seem to be more cultivated gardens than wild landscape.

The sureness and economy of Pittman's continuous line in her ink contour drawings recalls Picasso's 1914-1915 realistic portrait drawings.

lthough there is no color, Pittman's scenes remind me of Bonnard and Vuillard in their unpretentious domesticity.